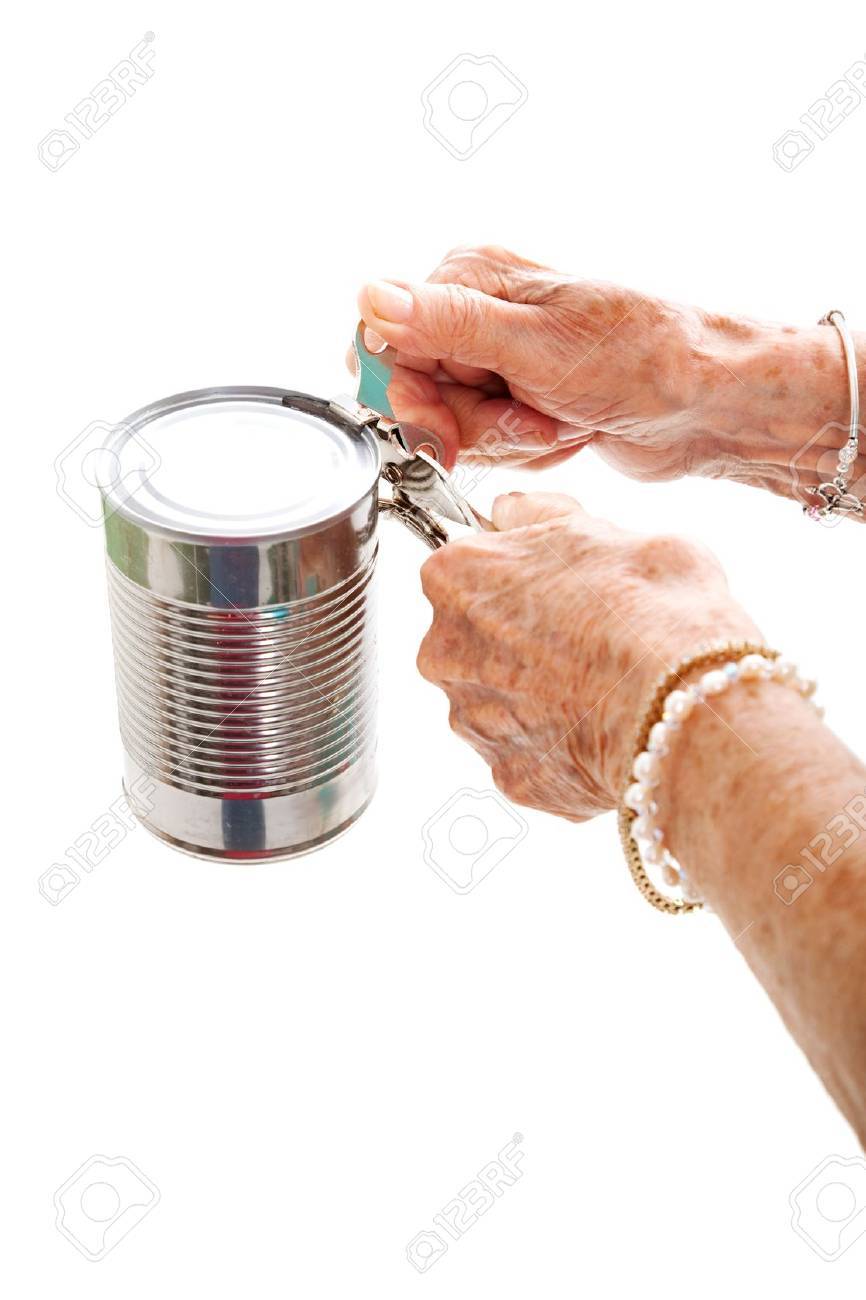 Shopping for a can opener that is easy to use for older people, people with arthritis, people with weak hands, etc. can be a daunting task. There are so many different types of can openers on the market these days that it can be hard to narrow them down and make the correct choice. During my research, I found that electric can openers cater to older people the most. Some are cordless and some are not, some are operated by traditional batteries, and some are rechargeable. The most important aspects are that the opener is safe and can be operated with ease if not with one hand.
5 Best Electric Can Openers For People with Arthritis
BangRui Automatic Can Opener
The BangRui can opener is ideal for people with arthritis because it is electric yet cordless. It operates on AA batteries and opens cans quickly while leaving a smooth edge so there is no danger. There is a magnet on the opener as well which keeps the lid from falling off and making a mess. Also, the lid can be rinsed and placed back on the can creating storage for any unused portions. Customers report that this can opener can be operated easily with one hand.
Pros:
Recessed Safety Blade – The blade is sharp, but it is concealed inside the unit so there is no danger of accidentally cutting yourself.
Lightweight – The body of the can opener is plastic which makes it lighter than most models.
Compact Design – The BangRui is small enough to fit in the palm of your hand making it comfortable to use.
Easy to Use – The opener operates with the touch of one button and rotates around the whole can automatically.
Cons:
Battery Operated – Anything that is battery operated runs the risk of becoming less effective once the batteries get low. This is the case here as well; keeping batteries on hand will help combat this issue.
Durability – Some users complain that the can opener does not last very long.
Hamilton Beach 76606ZA Smooth Touch Can Opener
The Hamilton Beach Smooth Touch can opener is a countertop opener that opens cans of all sizes with ease. The opener leaves a smooth edge that can be placed back on the can for storage of any unused portions. A light push of the lever sends the opener on its way around the can and it stops when finished. This opener has a cord so there is no need to worry about batteries or lack of performance when batteries are low. The cutting unit of the opener is removable so it can be washed which is a major plus.
Pros:
Opens Cans of All Sizes – The opener is tall enough to open larger/taller cans and heavy duty enough to open heavy cans.
Looks Great – Since this is a countertop opener, it is important that it is not an eyesore in your kitchen. This opener is black and chrome and looks great in any kitchen.
Ease of Use – The ergonomic design is ideal for the elderly or people with arthritis due to its one lever touch start.
Clean – Many can openers splash and splatter when opened, but the Hamilton Beach Smooth Touch cuts the sides of the can, rather than the top, which eliminates the mess.
Cons:
Cord – The cord is not retractable and can get in the way.
No Magnet – This opener does not have a lid magnet but, the way the opener cuts the can should ensure that the lid does not fall into the opened can.
Cuisinart CCO-50BKN Electric Can Opener
The Cuisinart CCO Deluxe is a countertop can opener that has been proven to last. Customers report that they are thrilled with how long their can openers have lasted. The opener has a wide base so it will not slip or fall over while opening a heavy can. The press and release lever and magnetic lid holder make this opener easy to use for people with arthritis or weak hands. The lever is also removable so it can be cleaned easily. There are 4 color options for this opener as well which is nice because it is a countertop unit and you can choose a color that best matches your kitchen.
Pros:
Easy to Use – The can opener features a single-touch lever that does the work for you once pressed.
Tall Size – This opener is large enough to open tall cans.
Good for Arthritis – Many customers specifically state that they have arthritis and love this can opener.
Cons:
Plastic Lever – Some customers have reported that the lever is plastic and therefore does breaks rather easily.
Metal or Paper Shavings – Many users complain that the opener shreds the paper label while opening the can. Some users reported metal shavings as well.
Hamilton Beach Classic Chrome Heavyweight
The Hamilton Beach Classic is a countertop model that sharpens knives as well as opens cans. It is tall enough to open tall cans and uses "SureCut" patented technology to open cans the first time, every time. The automatic shut-off tells you when the can is open and there is a magnet for the lid. The unit plugs in but there is cord storage within the unit so there won't be an extra cord to clutter your countertop. The cutting unit is also detachable and dishwasher safe making this can opener easy to clean.
Pros:
Heavyweight and Sturdy Base – This opener will not slip or slide around while opening heavy cans so there is no worry of messy countertops.
Extra Tall – Many can openers are not as tall as this Hamilton Beach model. It stands at 10 inches high so it works on almost any can.
Bonus Knife Sharpener – Though not necessarily a feature you will look for in a new can opener, but a nice bonus.
Cons:
Not Handsfree – You will need to hold the can lightly to be sure that the can doesn't fall while opening. The magnet is for the lid, not to hold the whole can.
Black and Decker Space Maker Multipurpose Can Opener
This device does not even look like a can opener, but it is, and so much more. The Black and Decker Space Maker is an electric can opener with a storage area on the back for the power cord. This device can be mounted under a cabinet, so you don't have to add another item to your countertop. The Space Maker holds any size can for you while opening it which is a great feature for those with limited use of their hands. The cutting component is removable and washable as well.
Pros:
Space Saving – As mentioned above, this opener mounts to the underside of any cabinet and therefore does not take up any counter space.
Swing-Open-Door – There is a door that swings open that conceals all of the features so the outside of the unit has a clean look.
Auto Shut-Off – The can opener shuts off when the can is open so you know when it is finished.
Multi-Purpose Device – This can opener also sharpens knives, opens bags, and has a built-in bottle opener.
Cons:
Expensive
Installation – Some customers have complained that the device is not easy to install.
5 Best Cordless Can Opener on The Market
Cordless can openers are very handy if you don't want to deal with a can opener on your counter. These little openers are also excellent for people with arthritis or weak hands as they operate with the push of a button. Customers seem to prefer openers that are rechargeable over openers that require regular batteries. These openers are small enough to fit in a drawer or take on the go if need be.
Black and Decker GC200 Gizmo
The Gizmo is a cordless can opener that operates on a rechargeable battery. The charging dock can be wall mounted, stored on the counter, or in a drawer. The opener clips onto the top of the can and moves around the can on its own. The opener shuts off once it is finished and a magnet holds the lid in place while you remove the can. Also, the stainless steel blade is removable so it can be cleaned.
Pros:
Battery – Rechargeable battery means no extra money spent on replacing batteries.
Exterior – Soft grip exterior is easy on hands.
No Limits – There is no size can that this opener won't open since there is no base and it sits right on top of the can it is opening.
Cons:
Efficiency – When the batteries are low, the opener does not work as well.
Expensive
Hamilton Beach Walk N' Cut
The Walk N' Cut opener by Hamilton Beach is very similar to the Gizmo. It has a rechargeable battery, cuts the can open on its own, shuts off once it is finished, has a removable cutting mechanism so it can be cleaned, and will open cans of any size. Customers report that it lasts long and is small enough to be stored in a drawer.
Pros:
Small – Fits in a drawer so it does not add clutter to your countertop.
Durable – Most customers are happy with how long this opener lasts.
Cons:
Tornado F4
The Tornado F4 is a much cheaper alternative to the two options above. The opener operates with the touch of one button and shuts off once it has opened the can. The F4 is a smaller version than the original Tornado which makes it a better fit for your hand and easier to store. There is a magnet for holding the can lid and it also features a quick release button so there is no risk of the device getting stuck on the can. The Tornado F4 requires 3 AAA batteries.
Pros:
Inexpensive – Much more affordable than some other models of cordless openers on the market.
Quick Release – The quick release button is a nice feature to have just in case the opener gets stuck on the can.
Cons:
Batteries – Requires 3 AAA batteries which can be expensive if replacing them frequently.
Trouble with Large Cans – Many users report that this opener is not fit for opening large cans.
Instecho Electric One Touch
The Instecho one touch can opener is an electric can opener that operates with 2 AA batteries. It is small and lightweight and operates with the touch of a button. Unlike the others on this list, this opener does not stop on its own. Another push of the button brings the opener to a stop.It is also easy to clean, but does not have removable parts for cleaning. Users recommend wiping the opener down with a damp cloth after each use.
Pros:
Lightweight and Small – Easy to hold and easy to store.
One Touch – Both start and stop are operated with the same button.
Cons:
Batteries – If batteries are low the can may not release by pressing the stop button until new batteries are inserted.
Opener Can Stall – Cans with heavy or uneven seams may cause the opener to stall.
Kitchen Mama One-Touch
The Kitchen Mama one-touch opener is larger than the others on this list, but its ergonomic design makes it just as easy to hold and operate. The opener operates with the push of a button and stops on its own. This opener also boasts that it leaves smooth edges on the lid without the metal shavings and shredded paper that other openers leave behind. The Kitchen Mama requires 4 AA batteries to operate which, as previously mentioned, can become costly.
Pros:
Easy to Use – Users report that this opener is easier to use than others they have tried because you don't have to find the edge of the can before pushing the button.
Customer Service – Customers report that Kitchen Mama's customer service department is very helpful.
Cons:
Loud – Some users complain that this opener is too noisy.
ULTIMATE BUYERS GUIDE
Power Source
When considering a can opener that is to be used for arthritic or weak hands, the power source should be one of the first items to consider.
Power Cords
Many models including the Hamilton Beach, Cuisinart, and Black and Decker use traditional power cords that connect to a wall outlet for their source of power. The problem with these is that they tangle easily and are not safe for older people who have lesser depth perception.
Battery Operated
Because of the clunkiness that comes from corded can openers, some are battery operated. This allows for more portability. The battery types that are used in most can openers are AA or AAA. Battery operated can be a plus if you are short on outlets or need a portable can opener. However, battery operated devices can lose power when the batteries get low and constantly replacing batteries can get expensive.
Height of Device
Most electric can openers are units that stand alone on a countertop. If this is the case, you will need to be sure to purchase a model that is tall enough for all of the cans you will be opening. Look for cans that are considered "extra tall" when shopping. Most "extra tall" can openers are 9 or 10 inches tall which makes them tall enough for any can.
If you are using a handheld can opener, whether electric or manual, can height will not be an issue.
Ergonomic Features
Though many handheld can openers are not great for people with arthritis or weak hands, there are some models that have features that make them easier to use. Soft handles, large knobs, and anti-slip grips are all features that improve usability for people with weak hands or fingers.
Materials
Most can openers today have plastic parts. Many users complain that the plastic parts, such as the lever or the body of the opener, break too easily. In order to avoid this problem look for an opener that has a stainless steel blade, lever, and other parts.
Easy to Clean
Some side opening can openers (safety style) are designed such that the blade never touches the food inside the can so their blades naturally stay clean. Your traditional style can opener should have removable blade assemblies so that they can be cleaned after use.
Lid Holding Mechanism
If your opener does not have a magnet to hold the lid, the lid can fall back into the can which creates a mess and a potential injury. Safety can openers open cans at the side rather than the top so once the lid is removed, the lid cannot fall back into the can.
Safety or Traditional?
Safety
If your hands are not that steady you may want to opt for a safety can opener to avoid injury. Safety can openers cut through the side of the can and create a smooth, flat edge.
However, cutting through the side of the can takes more work than cutting through the top of the can which can lead to efficiency and durability issues. It should also be mentioned that some users find metal shavings after using an electric safety opener. Handheld safety openers do not have this problem.
Traditional
Traditional openers cut the can at the top of the can and make a jagged-edged lid. The jagged edge can cause injury, but the traditional openers won't leave metal or paper shavings behind.
Popular Brands
Hamilton Beach – Hamilton Beach has been around since 1904 when L.H. Hamilton and Chester Beach began to develop motor operated small appliances for household use. The Hamilton Beach Manufacturing Company was founded in 1910 and began to produce items such as drink mixers, juice extractors, floor polishers, meat grinders, etc.
Today Hamilton Beach produces blenders, slow cookers, food processors, rice cookers, can openers, small grills, etc. The Hamilton Beach name is well known and trusted in North America due to its lengthy history.
Cuisinart – Cuisinart was founded in 1971 by Carl Sontheimer when he set out to introduce an electric food processor to the US market. The first model of the food processor was introduced in Chicago in 1973. Though Cuisinart is best known for the food processor they produce an extensive list of kitchen products such as coffee makers, hand mixers, microwave ovens, toasters, etc.
Black and Decker – In 1910 Black and Decker Corporation was founded by S. Duncan Black and Alonzo G. Decker. The company was a small machine shop located in Baltimore, MD. In 1917 Black and Decker invented the portable electric drill and from there began acquiring other companies such as DeWalt in 1960 and General Electric Company in 1984 and continue to do so today. Today Black and Decker produces power tools, small appliances, hand tools, batteries, etc.
Tips for Buying Kitchen Appliances for Senior Citizens or Arthritis
Electric Appliances – Any appliance that can be switched from manual to electric will help senior citizens or people with arthritis. Simple replacements such as an electric can opener rather than a manual one will save the joints a lot of work. Other larger appliances, such as dishwashers, will save a ton of energy and lessen fatigue when washing dishes.
Wide Rubber Handles – The wider the handle, the easier it is to grip, and rubber is a material that provides lots of grip. The easier the handle is to grasp, the less pressure is put on joints, which makes it easier to hold. Wide rubber handles can be purchased and slid over most items such as toothbrushes, eating utensils, and pens and pencils.
Non-Slip Surfaces – Cutting boards, the base of the can opener, and the dish rack are all items that can slide around while being used. This sliding causes the user to put pressure on the item so that it does not slip. This pressure is an enemy of arthritis, and for this reason, items with non-slip surfaces are recommended. You can also purchase non-slip materials to glue or stick to the bottom of things that are not already non-stick.
What Mechanisms of a Can Opener Make It Easy for the elderly?
Levers or Buttons – Having a can opener that operates with the push of a lever or button is much easier on arthritic or weak hands than one that has to be twisted or held down to operate.
Openers that Hold the Can – Many can openers have a magnet to hold the lid once it is removed so the lid does not fall back into the can or onto the counter. However, some can openers have the strength and are designed to hold the can while it is being opened. This can be a major advantage for elderly people because it takes less effort to open the can.
Safety Style Openers – Traditional can openers leave a jagged metal edge on the lid that can cause injury. For anyone with unsteady hands, this can be a real hazard. The safety can openers open the cans without leaving the jagged edge so the risk of injury is eliminated.
FAQ
Where to buy can openers for the disabled?
A simple search of the internet will provide you with several websites that can openers for the disabled can be purchased from. Amazon.com is one of the most popular sites to buy items from, but there are others such as Walmart.com, Target.com, and Bedbathandbeyond.com. However, if you prefer going into a store to buy your can opener visiting any Walmart, Target, or Bed Bath and Beyond will get the job done.
What can openers can be operated with one hand?
Any of the cordless electric openers on the above list can be operated with one hand. Once the opener is placed on top of the can all that needs to be done is push the button and the opener does the work for you. The magnets on the openers will hold the lid while you remove the can with one hand.
The other can opener on this list that can be operated with one hand is the Black and Decker Space Maker Multipurpose Can Opener. Since the opener is designed to be mounted to the underside of a cabinet, its magnet is strong enough to hold the can in place which makes it easy to operate with one hand.
How do you clean an electric can opener?
Remove the part of the opener that is detachable (usually the blade or cutting mechanism). *If you are working with a can opener that has a cord, be sure to unplug the opener before beginning!*
If the blade is dishwasher safe, you can toss it in the dishwasher with your next load of dishes, and it will be good to go.
If the blade is not dishwasher safe carefully clean the blade with warm water and a mild detergent using a cloth or sponge.
Dry the blade using a cloth, or let air dry, before reattaching it to the opener, so it doesn't rust.
If you have an opener that does not have a detachable blade, use a moist cloth to wipe the blade and any other areas that are dirty from use.
Will these can openers work on all can sizes?
Many of the can openers on the list above will work on cans of all sizes. All of the cordless electric openers will work on cans of any size because they sit on top of the can and work themselves around the can until it is open. Some of the countertop openers will work with large and tall cans, but it depends on how tall the opener is and how tall the can is.